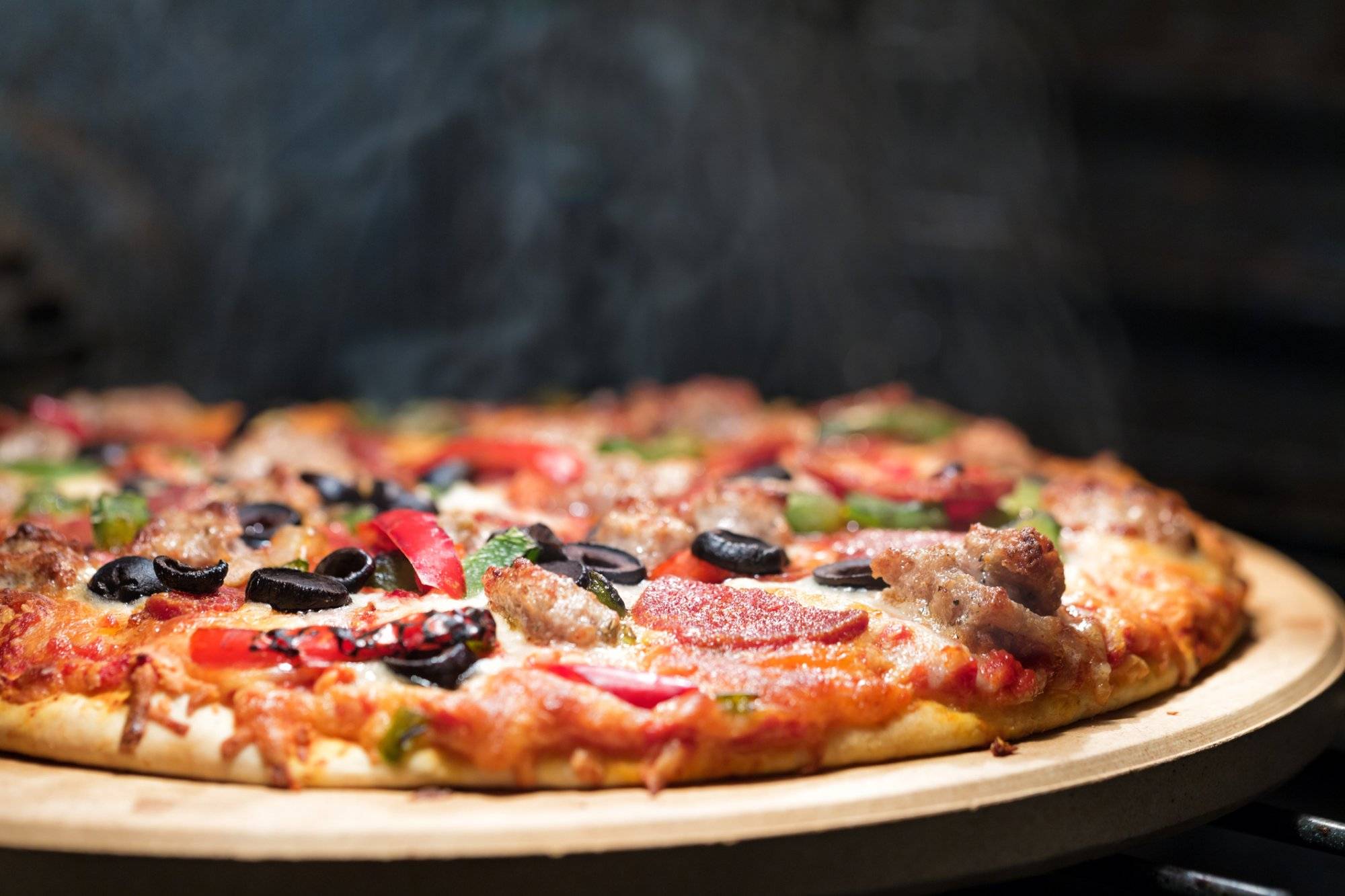 Want a great slice of pizza at an affordable cost? How about a side of delicious cheesy bread? We've got you covered. When it comes to the best pizza in Lewisville, no one can beat Marco's. Located at the Market Valley Parkway, their menu is ready to delight.
Appetizers 
Start yourself off with their four-cheese garlic butter cheesy bread or one of our amazing salads. Go for a classic Garden style, or get a little fancy with one of their Antipasto, Chicken Caesar, or special Chef salads. Just don't fill up too quickly – you'll need some room for Lewisville's finest.
The Pizza  
Now comes the fun part. With fourteen different kinds of pizzas starting at $6.99, there's something for everyone at this Lewisville pizza spot.
Meat lovers rejoice! Whatever your favorite meaty topping is, Marco's has got you covered. Try a simple sausage or pepperoni pie, or go for the Ultimate Magnifico (pepperoni and Italian sausage) or Meat Supremo (sausage, pepperoni, and ham) styles. Get in your veggies as well with a combo pizza like their Deluxe Uno (pepperoni, sausage, mushrooms, green peppers, and onions), White Cheesy (four cheese with bacon and onions) or The Works (pepperoni, sausage, ham, bacon, green peppers, mushrooms and onions).
Prefer chicken as a topping? Try their Florentine (with Parmesan garlic sauce and feta cheese), Fresco (with bacon, onions, and tomatoes), or BBQ (with bacon, onion, and BBQ sauce) pizzas.
Want to be a little adventurous? They aren't the best Lewisville pizza restaurant for nothing. A large Hawaiian (ham, chicken, bacon, and pineapple) or Bacon Double Cheeseburger pizza (ground beef, bacon, and onions) is just what you need.
Don't eat meat? Don't worry. In addition to a classic cheese, they've also got a Garden pizza topped with mushrooms, olives, onions, and tomatoes.
Other menu specials 
In addition to the best Lewisville pizza, Marco's also has a variety of subs and wings to choose from. Their oven-baked subs range from a brilliant Italiano (ham, salami, provolone, red onions, banana peppers, and dressing) to the Veggie Fresco (red onions, mushrooms, green peppers, tomatoes, olives, and cheese) and more. Their chicken dippers and wings come with ten or fifteen pieces.
But why choose between the best Lewisville pizza or the rest of their menu? With their hot-deal combos of two pizzas and wings or dippers, you can have it all. Now all you need is dessert. With their brownies, Marco's has you covered for that too.
What are you waiting for? From 
Sunday
 through 
Thursday
, Marco's is open from 
10am to 10pm
. Drop by on the weekend between 
11 am and 11 pm
. Want more information? Give them a ring at 
972-221-5200
. Don't forget to stop by their location at the Market Valley Parkway at the NE Corner of South Valley Parkway and West Round Grove Drive. Order the best Lewisville Pizza at Marco's in Market Valley Parkway!
Photo Source: [adogslifephoto][603873220] Thinkstock